Western Illinois University President Jack Thomas said his final day on the job will be June 30, 2019, ending a presidency marred by employee layoffs, declining student enrollment, and increasing tensions between the administration and faculty. Dr. Thomas made the announcement at the beginning of the Friday, June 14 Board of Trustees meeting in Macomb.
"At this pivotal time in our history, I believe the university would best be served by new leadership," Thomas said, reading from a prepared statement to the crowd of about 200 people in attendance.
Under terms of his negotiated departure, Thomas will spend one year on paid administrative leave and one year on sabbatical. He will receive his full $270,528 salary in each of those years. He will then have the option of returning to the classroom as a professor of English.
BoT Chairperson Greg Aguilar said Thomas brought the proposal to the board's closed door meeting Thursday night. The board gave unanimous approval Friday morning after reviewing and discussing the proposal.
Aguilar praised Thomas' leadership.
"He met the board's charge to keep the university's doors open. He met payroll obligations and maintained the quality of the educational experience we provide here," Aguilar said.
"We wish to thank Dr. Thomas for the leadership he has provided."
Thomas received a standing ovation from many of those in the room after Aguilar concluded his comments.
Incoming provost Martin Abraham will serve as WIU's temporary president until the BoT can choose an interim president. The board will conduct a national search for Western's next president. No timetable was set for completing that search.
The Thomas Presidency
Dr. Jack Thomas took WIU's top job in July, 2011, succeeding Dr. Al Goldfarb, who retired.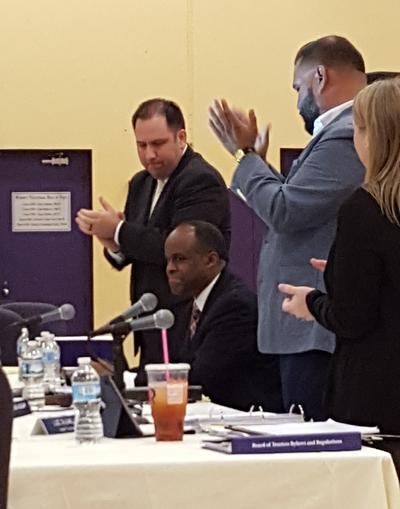 Thomas came to Western in January 2008 to serve as provost. His previous job was at Middle Tennessee State University – Murfreesboro, where he served as senior vice provost for academic affairs, interim dean of the College of Continuing Education and Distance Learning, and professor of English.
His personal page on Western's website lists what the university considers his top accomplishments, such as the Western Commitment Scholarship and the Centennial Honors College Scholarship programs. He has also touted the President's Executive Institute, a realignment plan announced in July, 2018, and the creation of 17 new degree programs at WIU.
Thomas served longer than the average college president, leading led Western for eight years. An article in The Chronicle of Higher Education cited a 2017 survey by the American Council on Education, which found the average tenure for college presidents was 6.5 years in 2016.
Thomas was a finalist for leadership positions at a few other higher education institutions last year but he was not hired for any of the jobs.
Declining Enrollment, Program Cuts
The decline in student enrollment preceded the Thomas presidency, though his administration was unable to stem it or turn it around:
Fall 2010: 12,585
Fall 2011: 12,554
Fall 2012: 12,205
Fall 2013: 11,707
Fall 2014: 11,458
Fall 2015: 11,094
Fall 2016: 10,373
Fall 2017: 9,441
Fall 2018: 8,502
Western was especially hurt during the unprecedented two-year state budget impasse under former Governor Bruce Rauner. Public universities received little state funding during that period, which started in July 2015 and created uncertainty for higher education across Illinois.
Western laid off 147 workers in May, 2016:
113 of its 781 civil service workers
30 of its 679 faculty members
4 of its 311 administrative/professional employees
Also in 2016, WIU eliminated four majors:
African American Studies
Philosophy
Religious Studies
Women's Studies
More programs are currently under scrutiny.
"Without a doubt, I have had to make some difficult decisions, including ones that have sometimes been very unpopular but nevertheless were always made with the best interests of the overall university's future at heart," Thomas said during his remarks at the BoT meeting.
Campus Unrest
The past year-plus has been especially contentious at WIU.
In March, 2018, faculty members held a "no confidence" vote on WIU's administrative leadership team. About 65% of those who cast ballots voted "no confidence," 33% expressed confidence, and a few ballots were invalidated.
At the end of June, 2018, the administration laid off about two dozen faculty members and two other employees in academic affairs. Those let go include eight tenured or tenure-track teachers, one of whom is a Fulbright scholar.
In addition, the administration targeted 62 other positions for elimination. Five of the positions were already vacant, and the administration said the remaining 57 people were retiring from Western, had already left, or planned to leave for another job.
In August, 2018, the administration announced it was cutting 100% of the appropriated funding for Tri States Public Radio, effective March 1, 2019. The announcement angered hundreds of people who attended the subsequent BoT meeting to denounce the decision. The administration has never explained why TSPR was chosen over other programs/services.
At about the same time, Thomas announced administrators would no longer take furloughs, even though the furlough program was established to help save money for the university. The furlough program had been in place for three years.
In November, 2018, acting on orders from the Illinois Attorney General's office, WIU released audio recordings that showed the administration and previous Board of Trustees repeatedly violating the Illinois Open Meetings Act by talking about budget matters behind closed doors. State law requires such discussions be held in public. The state ordered audio from more illegal meetings be released early this year.
On March 1, 2019, Western laid off 132 employees, which was about 8% of the total workforce. 120 of the layoffs were on the Macomb campus:
2 administrative positions
10 academic support personnel
27 faculty members
81 civil service workers
The other 12 layoffs were on the Quad Cities campus:
2 academic support personnel
2 faculty members
8 civil service employees
During the course of the past year, several BoT members resigned. At the end of March, 2019, new Governor J.B. Pritzker cleared the deck, appointing seven new members to the eight member board (the eighth member is the student representative, who is elected by fellow students).
At the end of the 2018-19 school year, faculty remained unhappy with the administration. 230 faculty members completed the entire President's Performance Survey Report (out of 478 who were eligible). On a five-point scale (with five being the high mark), Thomas received a mean value rating of 1.62, down from the year before. Among the other findings:
Nearly 69% strongly disagree that "Overall, President Thomas is highly effective at performing the duties of the President."
Nearly 72% strongly disagree that "President Thomas manages the university's resources well."
Nearly 71% strongly disagree that "Regarding faculty, President Thomas's management practices promote excellence."
Nearly 71% strongly disagree that "President Thomas makes effective administrative appointments."
More than 67% strongly disagree that "President Thomas fosters effective relationships with the UPI (University Professionals of Illinois, the union representing faculty)."
The cries to oust Thomas increased in late May after he fired Brad Bainter, Vice President, Advancement and Public Services, who graduated from Western and had worked for the university for more than 35 years. Neither side has publicly commented on the matter.